Finally, The Quickest, Easiest and Most Inexpensive Way to Gain 2 Continuing Education Credits Through Fitness Australia, That's 100% Online!
This Program Is Filled With The Most Powerful, Advanced Training Techniques Whilst Enabling You To Become an Expert In Understanding The Stability And Control Issues – This Will Position You As the Expert and Allow You To Charge More For What You Do!
Australia's Highest Paid Personal Trainer, Brad Sheppard ($440 / 45min session) and Australia's Highest Paid Physiotherapist, Michael Ridgway ($850 / 60min consultation) combine their award winning talents in this 2 Continuing Education Credits Program!
You see, most personal trainers have a reasonable repertoire of exercises, however seem to constantly find themselves performing the same exercises, going to the same machines, with the same people. It is a vicious circle; the trainers become bored, the clients become bored, it's no wonder that most personal trainers are too scared to put their charge rates up…maybe their clients will actually leave!
What if you could have a great array of advanced strength exercises in one package? Brad Sheppard has released a number of his very own personal favourites for you to learn exactly what it takes to deliver the best functional exercises. However that is not all. Each exercise has been scrutinised by Australia's leading and highest paid physiotherapist to help you understand the control and stability issues. These exercises are performed on those clients that pay the big bucks!
You Will Be Blown Away With Numerous Cutting Edge Exercises, Techniques And Advanced Tips To Add To Your Arsenal Including;
What are the best personal training exercises to get the fastest results in the shortest possible time?

Be able to pinpoint exactly what should you be looking for when muscles are firing, and when to know that a client has lost control?

Learn the best technique points, progressions and regressions on any exercise so that you will never but stumped with what type of exercise to give somebody.

Develop a strategy with other allied health practitioners that positions you as the expert Personal Trainer every time – your competition will have no chance trying to match your credibility.

Have your best clients so impressed, with your skill, new found knowledge and professionalism that they will keep referring new clients to you – your business and income will grow dramatically!

How to deliver the optimal training strategies that combine strength with stability and control aspects.
Here's An Amazing Opportunity For You To Take Advantage Of Right Now!
You Can Grab Your Copy Of The Optimal Training Methods At Over 67% Off The Normal Retail Price Of $297.00
Great News!
For A Limited Time Only, Optimal Training Methods Program With 2 Continuing Education Credits Is Only $97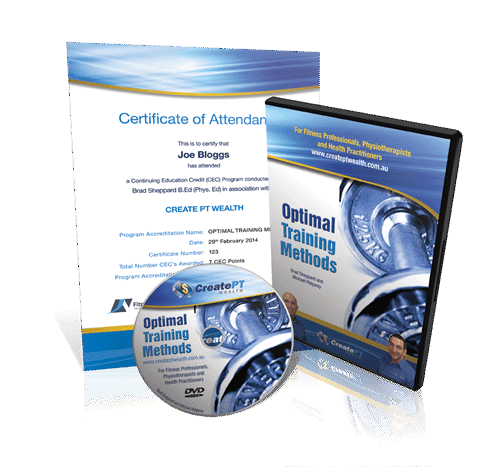 Yes, Rush The Optimal Training Methods Program So I can Gain 2 Continuing Education Credits For ONLY $97
Your information is 100% secure, we will never rent or share your details with anyone