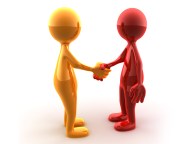 Hiring personal trainers to work for you can be a daunting task. However, these posts are here to guide you through the process so that you only hire the best: those who will help you succeed and grow your business.
Our first two posts looked at the importance of developing a list of criteria, and how to start attracting potential employees. Once someone has read the detailed job description on your website and completed a personality questionnaire, you can then schedule a brief meeting with them.
Once you've met them and established that they might be a valuable member of your team, you should ask them to train one of your clients. Ask one of your long-term clients to provide you with insight into your prospective employee in exchange for a free training session with them. Make sure that you are around to observe this trial training session so that you can see the trainer in action and how they interact with a client.
Once you have obtained as much feedback from your client as possible, you can make a final decision regarding whether or not to hire the prospective employee as a member of your team. From here it's all a matter of completing the paperwork and signing the contract to welcome your new personal trainer onto your team.