Print Advertisements and Flyers Design
We're going to compare the two following advertisements that we typically see personal trainers produce. Well, actually, it's the first ad that we usually see more of. No doubt you do too!
Let's analyse the first advertisement: Tom's Personal Trainers
Tom's Personal Trainers
We do strength training
We do cardio training
We do bodyshaping training
We do outdoor training
We have new equipment
We are qualified
$50.00 per session
Call 3254 7890
Here are some notable points about Tom's Personal Trainers advertisement – it breaks many of the principles of direct response marketing.
It has no powerful benefit-driven headline;
The main body (and valuable 'real estate' of the ad) is taken up with features rather than benefits;
It states points that you would most likely expect: 'We are qualified.' Well, I certainly hope my personal trainer is qualified!
It states the price which can immediately cause a potential client to make a decision based on price alone; and
It contains a limited call to action and leaves the responsibility of picking up the phone and calling in the hands of potential clients.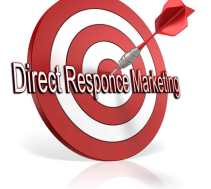 Low let's look at the following example using the direct response marketing formula.
Warning: Do Not Use A Personal Trainer Until You Read This Free Report
Hiring the wrong trainer can cost huge amounts of time and money.
All personal trainers are not the same – when it comes to your body – you should know what questions to ask. Call toll free 1300 XXX XXX FREE report "Insider Secrets on the Fitness Industry" or just go to…
It begins with a bold, punchy headline that could be considered quite contrarian and therefore invites the reader to want to find out more;
Rather than asking for the potential client's business, it first makes a clear statement for them to 'not hire' a personal trainer until the ad is read;
The subheadline is very clear and definite, indicating two very valuable things that people do not want to waste – time and money;
It states that 'not all personal trainers are the same'. This frames the potential client to understand that there are different types of personal trainers;
The advertisement educates the potential client and empowers them in the buying decision: 'you should know what questions to ask';
The toll free number with a voice recorded message enables the potential client to call without the fear of being 'sold to';
Giving away a 'free, special or bonus' report immediately positions you as the expert in your field. In addition to this, you are beginning the relationship simply by giving something away' and
Alternatively, the potential client can go straight to a website landing page that has been specifically set up to test and measure the response of this advertisement.
You can see that this example follows the principles of direct response marketing which simply invites the potential client to take the first step, and that is to exchange their contact details for some free and valuable information that will be of great benefit to them.
The original article by Brad Sheppard was featured in Ultra Fit Magazine.