CREATE PT WEALTH PRESENTS:
BUSINESS MASTERY PROGRAM
How To Get More Clients, Leads, Sales And Increase The Profitability Almost Instantly Into Your Business
If You're A Personal Trainer, And You're Not Sure How To Easily Increase The Profitability In Your Fitness Business Beyond Where It Currently Is, This Is For You!
(Short Video Explains Two-Day Program)
You will discover how to increase your leads, boost your profits, & build the fitness business of your dreams with our Two- Day Business Mastery Program.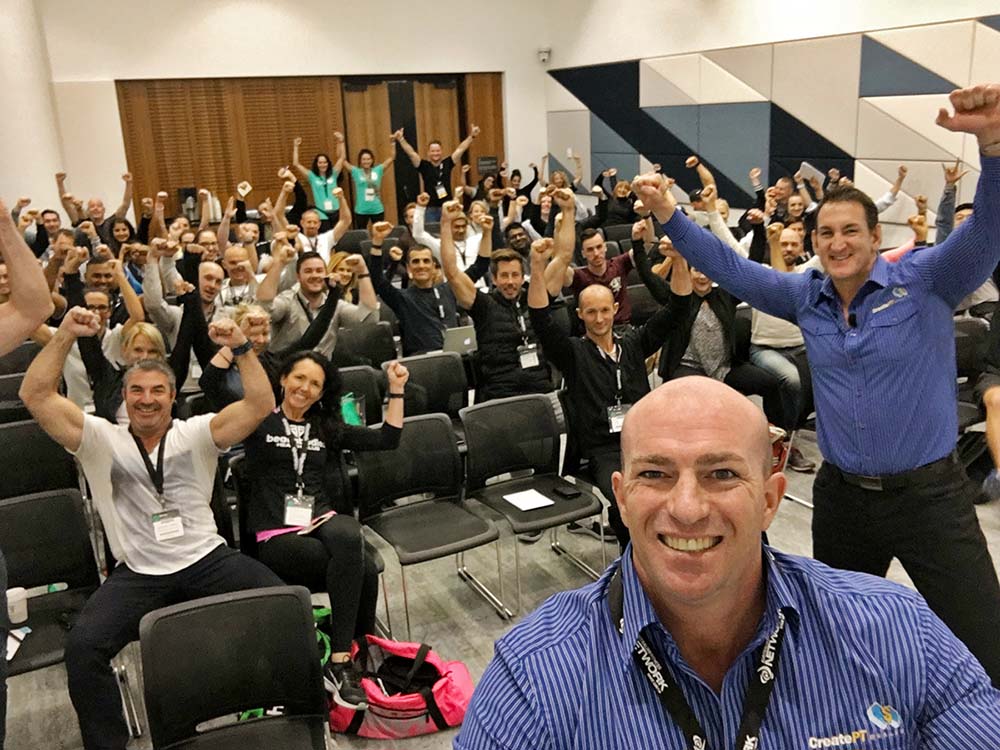 Here's What You Will Uncover:
Day One:
Develop Your 7-Step Formula To Attract Qualified Clients.
: How to have better qualified clients contacting you and market to your ideal niche. What problem would this solve for you?
: This enables you a way to have better qualified leads & understand the problems they want you to solve.
: We teach you how becoming a specialist means you can earn more for your service (if you desire) and people start seeking you out.
: There are thousands of GP's out there, but not as many specialists. The difference? A specialist needs to see less people and can earn more. The specialist also has a waiting list of people wanting to use their service.
: We can show you how to implement this method in your business. And, it's easier than you may think.
How To Remove The Stress Out Of Selling & Confidently Convert More Sales!
: Would you like to close more sales and overcome your fear of selling?
: We teach you how to take the sales out of selling, so you feel confident & relaxed.
: Every sales appointment you bomb is costing you a fortune & makes business more stressful.
: The good news is that you don't need to be a gun sales person; you simply need to follow our step-by-step system.
Increase The Effectiveness Of Your Advertising For A Greater Return On Your Investment.
: There is a psychology behind effective marketing and advertising.
: People are bombarded with advertising these days. The first step we teach you is how to break through the clutter and get noticed.
: We then teach you how to construct an effective piece of advertising. This method can be used for all forms of advertising, either online or offline marketing.
: If you are currently frustrated with the results your advertising is getting or you don't do any, this session is a must for you.
Over $597.00 Worth Of Bonuses
(KEEP SCROLLING DOWN THE PAGE TO SEE ALL THE EXTRAS BONUSES!!!!)
Here's The Truth
You are actually in a Sales & Marketing business.
You can be the best personal trainer in the world, but if you are unable to sell and market yourself, you could also be the poorest.
What It Takes To Build A Successful Business?
Discover Brad's personal strategy for increasing his business from just him, to a team of 13 trainers doing over 200 hours of PT each week. Plus, learn how Brad become Australia's highest paid Personal Trainer per session.
IMPORTANT!
Have you ever thought about increasing your prices to your existing clients, but didn't pull the trigger?
No matter if it's a $10 or $30 price increase, you will leave this session 100% confident in increasing your prices and how to do it effectively.
Using our methods, you can uncover how it is possible to increase what you earn per session.
How To Breakthrough Self-Sabotaging Roadblocks:
If running a successful business meant just having the information, there should be more successful people out there.
Truth of the matter is; if you don't have the right beliefs or programming about being successful in business, chances are, you won't be.
In this session, Jason uncovers how to breakthrough limiting beliefs that can hold you back from reaching success in your business.
Build A Team Of Trainers And It's Not As Scary As You May Believe.
In this session you will uncover how to start earning passive income by leveraging your time and hiring other people.
This means that you can take holidays and not lose money or clients.
If the only way you make an income at the moment is exchanging time for money, this session is critical for you.
No matter if you want to do this right now or in the near future, you will see the possibility of how you can achieve this.
30- Day Implementation Plan.
After attending seminars, you cannot only feel pumped up and excited about what's possible, but also overwhelmed as to where to start.
In our last session of day 2, we will walk you through a 30-day action plan of the "Must Do Things" that you need to implment straight away.
This way you can walk away from our program clear and focused on what you need to put into action.
Yes! I'm ready to Increase Money Whilst Reducing My PT Hours, Attract More Clients, And Earn Passive Income!
Hi There, it's Jason Urbanowicz & Brad Sheppard here and these our stories.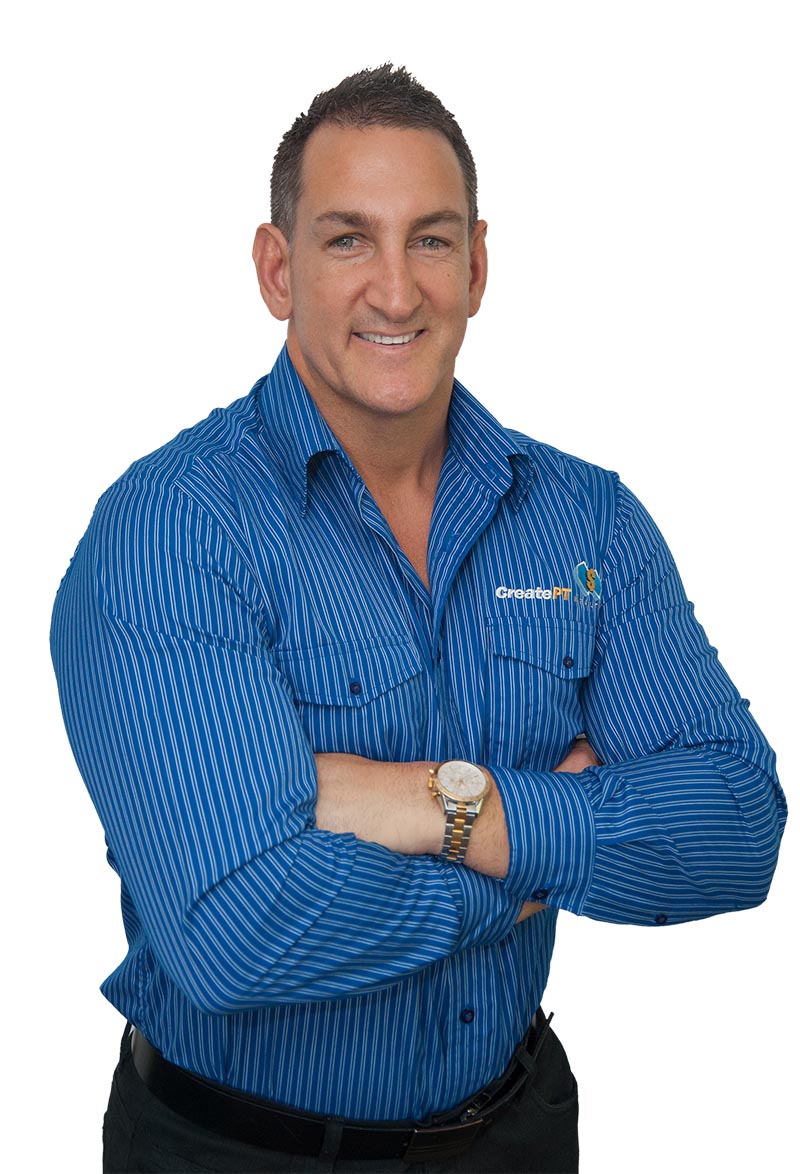 Jason Urbanowicz
"I was a struggling Personal Trainer getting frustrated with earning a measly $17,000 per year 21 years ago. Then I discovered the methods, systems, and actions that enabled me to build up a successful fitness business.
I became an expert in Marketing, Lead Generation, Sales & invested 13 years studying and being Coached by the best in Business.
This resulted in running multiple businesses over the years that generated millions of dollars in revenue.
Brad and I joined forces in 2008, with a common mission and desire in place. To educate and pass on our wealth of experience and knowledge to other Fitness Professionals going through the same thing we did when we first started.
To this day, we have educated over 10,000 Fitness Professionals and are responsible for creating more successful business owners than any other company."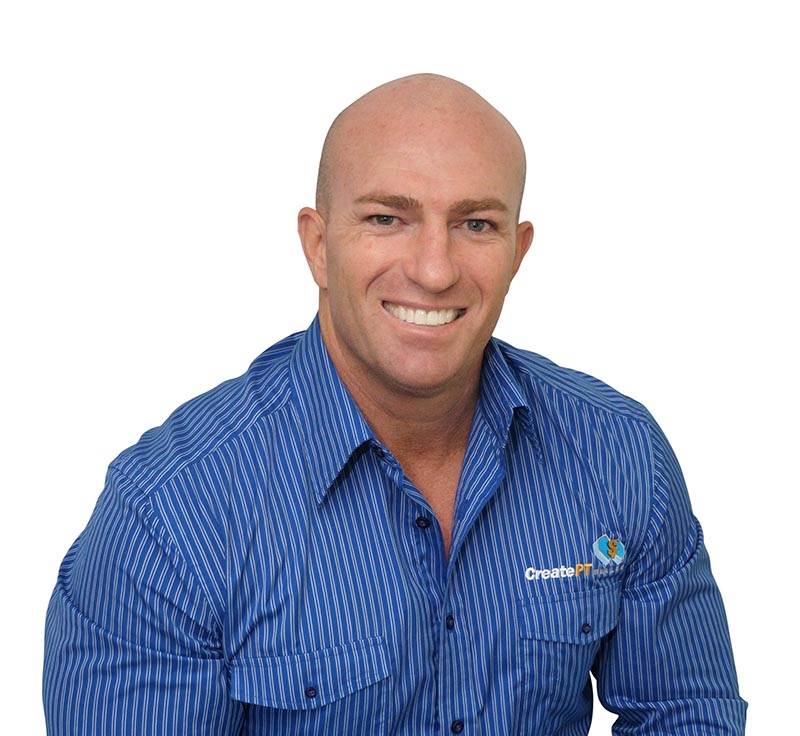 Brad Sheppard
Brad Sheppard is the Owner of Brisbane's largest and most Successful Personal Training team. He was awarded the Prestigious 2006 Queensland Fitness Professional of the Year Award.
"For years I was frustrated watching and hearing about fellow colleagues struggling to make a living as a personal trainer … So I decided to do something about it! I will expose every secret, strategy, process and technique that will put you in the top 1% income earners in our industry. You won't want to miss out on this."
Why Would YOU Want To Take Two-Days out Of Your Life To Come And Spend It With US And Dozens Of Other Hungry Fitness Business Owners?
* We'll Show You How We Get Low Cost And FREE Leads Into Our Client's Businesses.
* How To Close A Sale With Nervous Buyers.
* Learn A Method We Teach Our Clients To Get Amazing Results With Their Advertising.
* Our Method For Increasing Your Charge Out Rate And Charge What You Are Truly Worth.
* How We Increased Our Income Whilst Working 7.5 PT Hours Per Week.
* How To Remove Those Self-Sabotaging Roadblocks To Achieving Your Business Goals.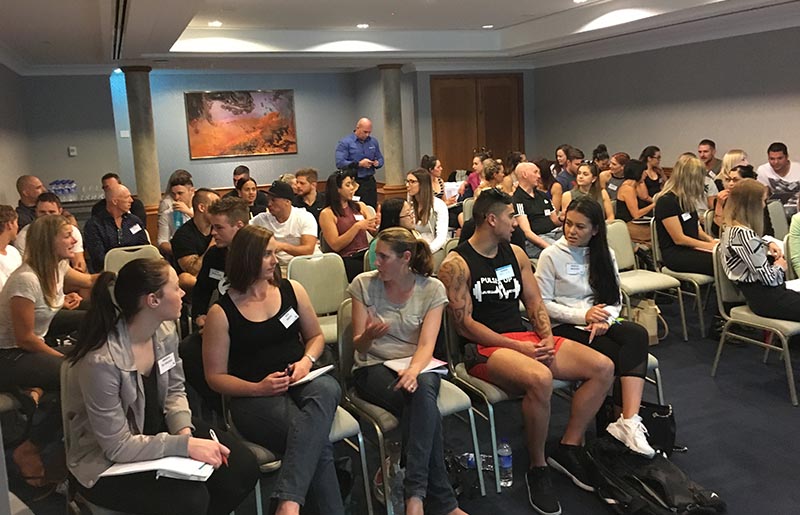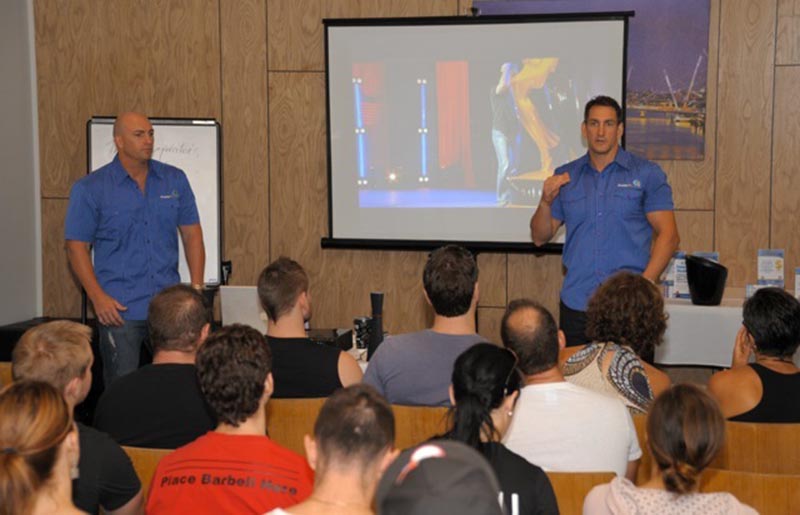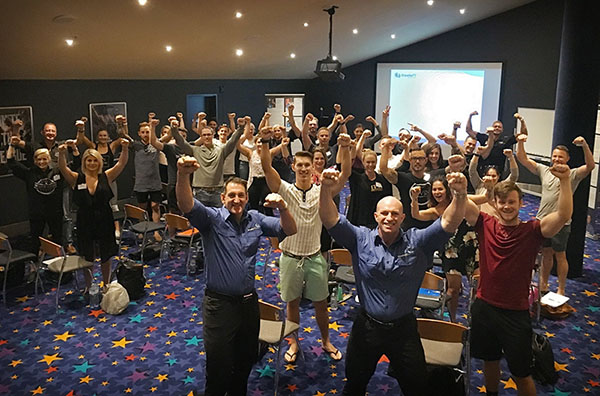 But Don't Just Take Our Word For It!
Over 600 5 Star Reviews From Those Who Have Already Attended.
(You can check out more reviews on our facebook page)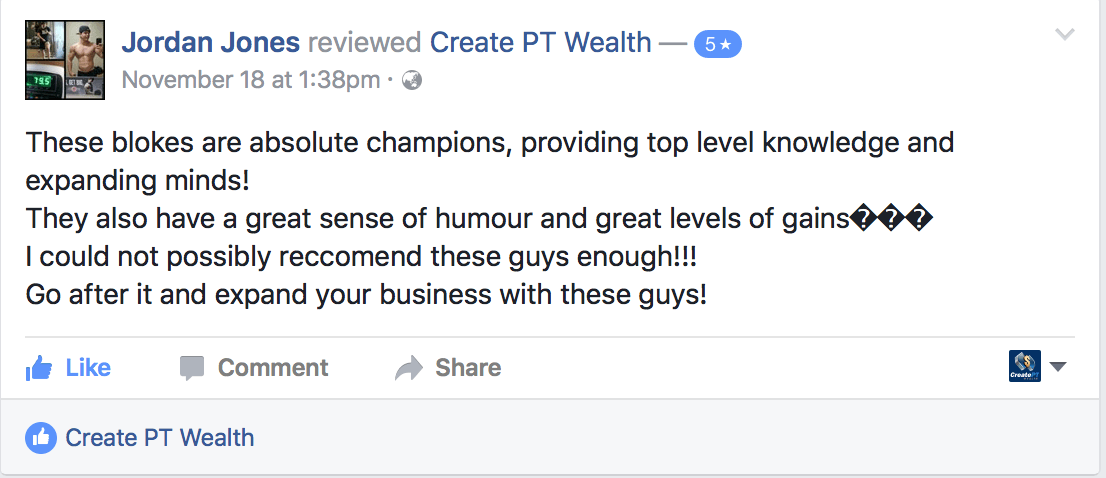 We Have Helped Create More Six-Figure Plus Fitness Businesses Since 2008, Than Any Other Fitness Business Coaching Company Out There.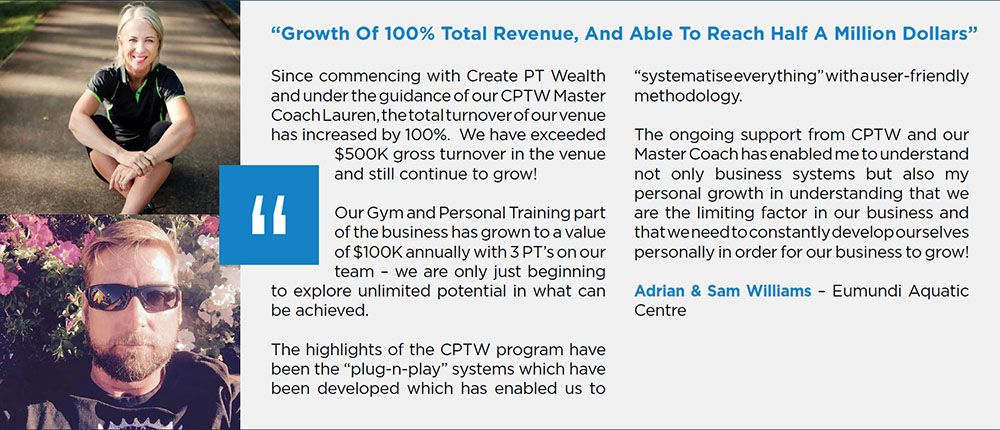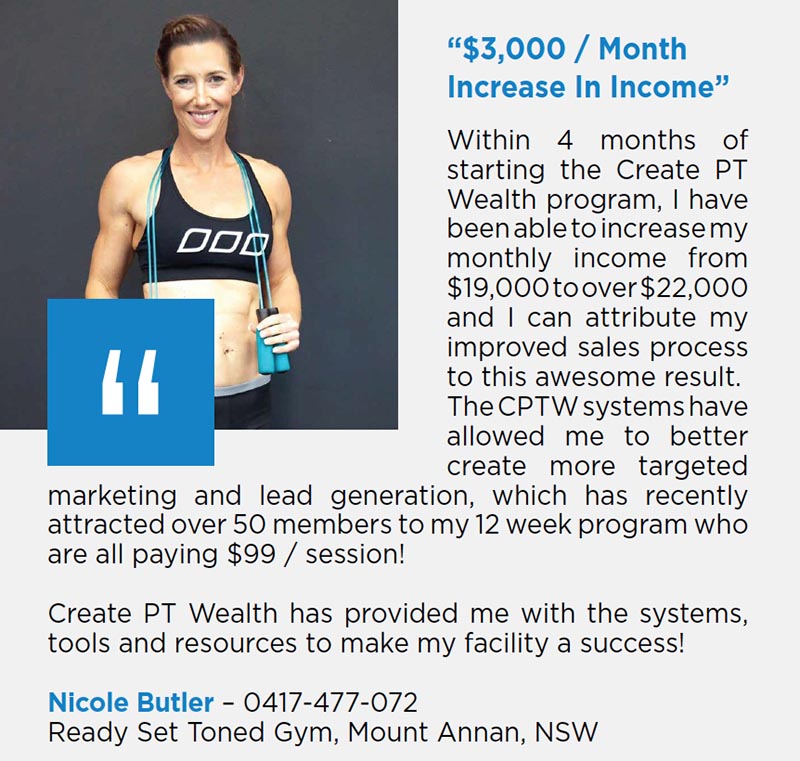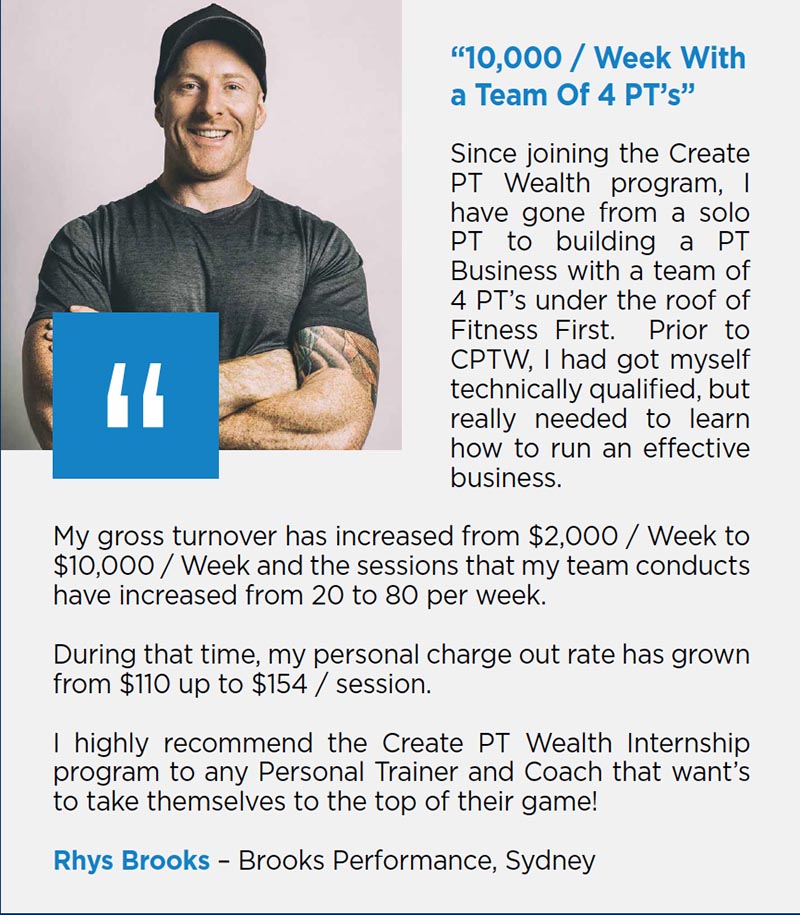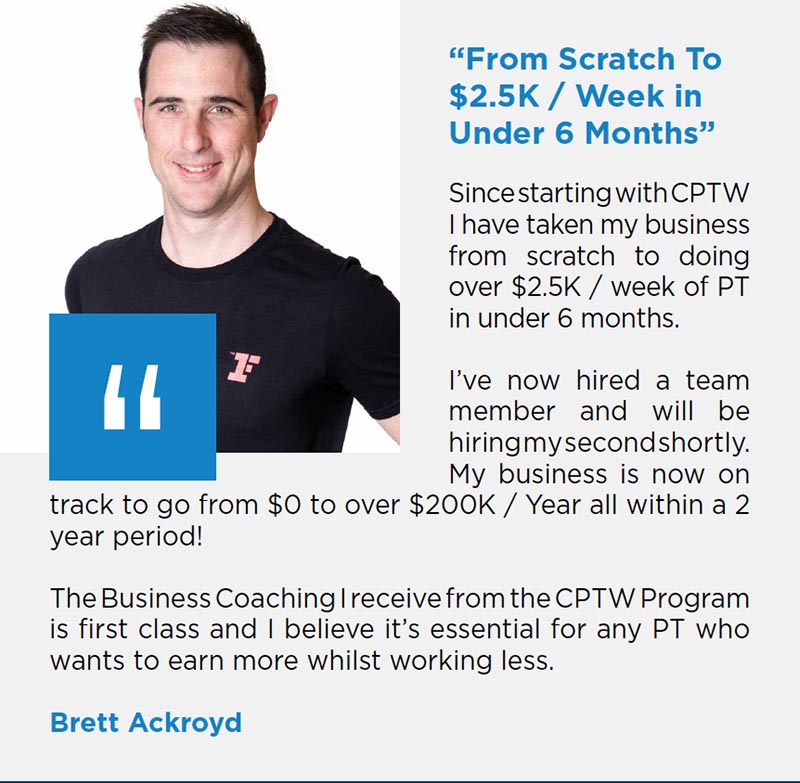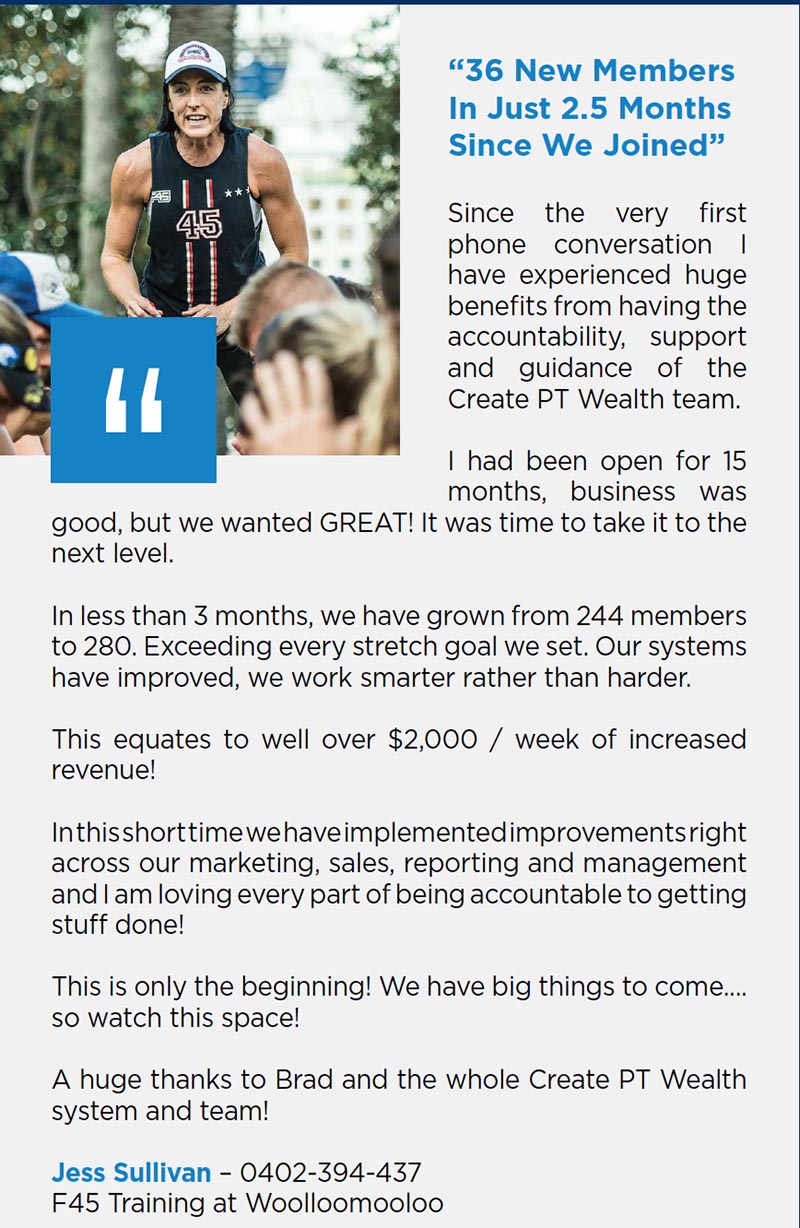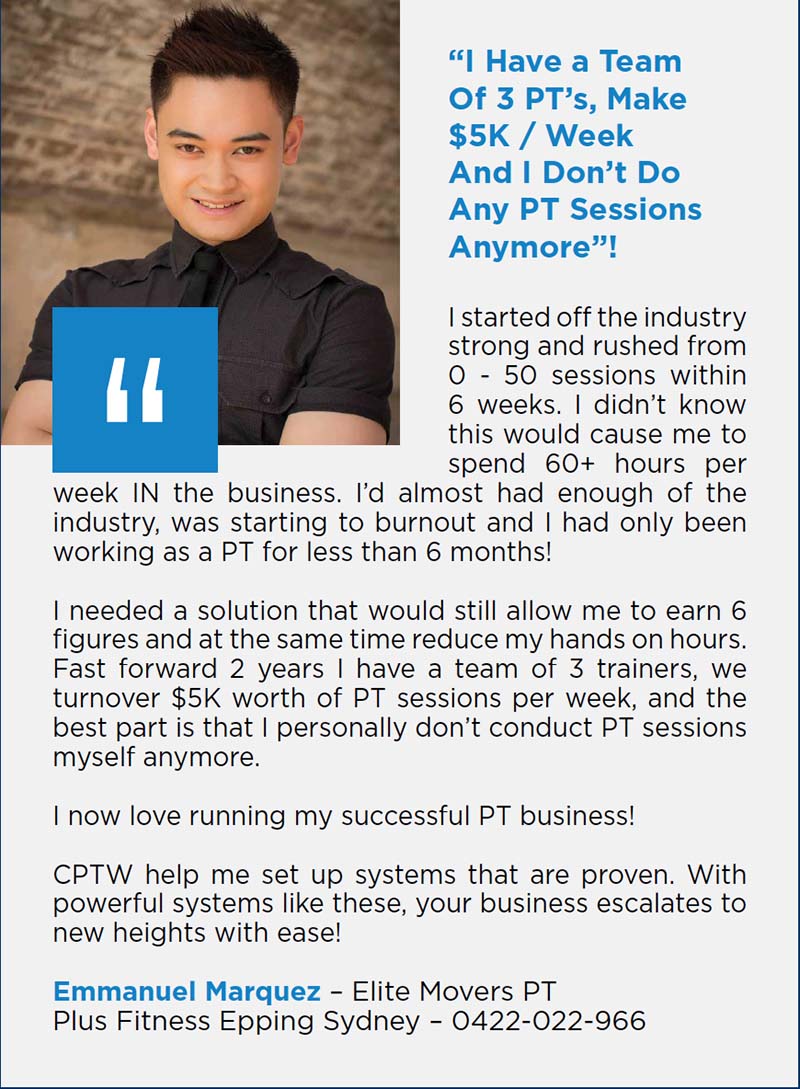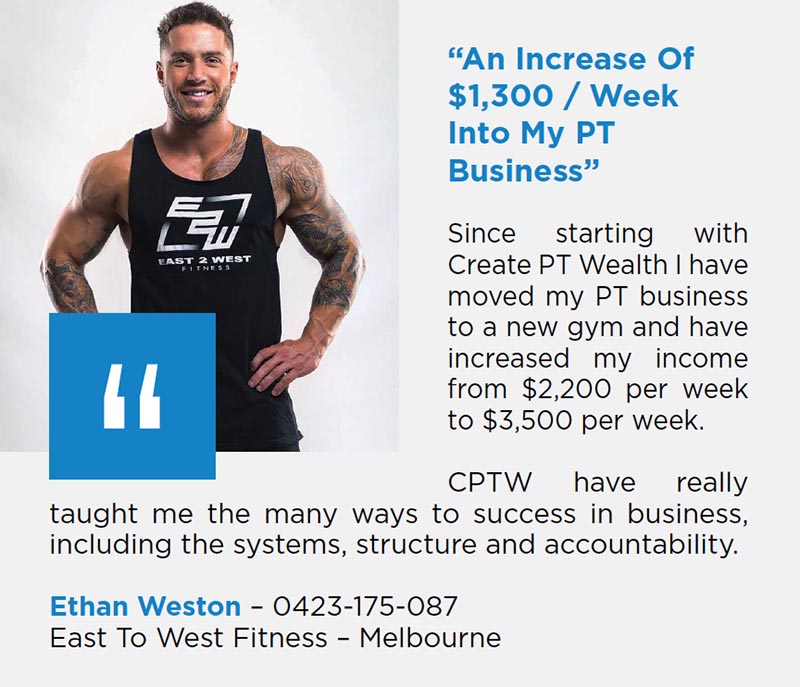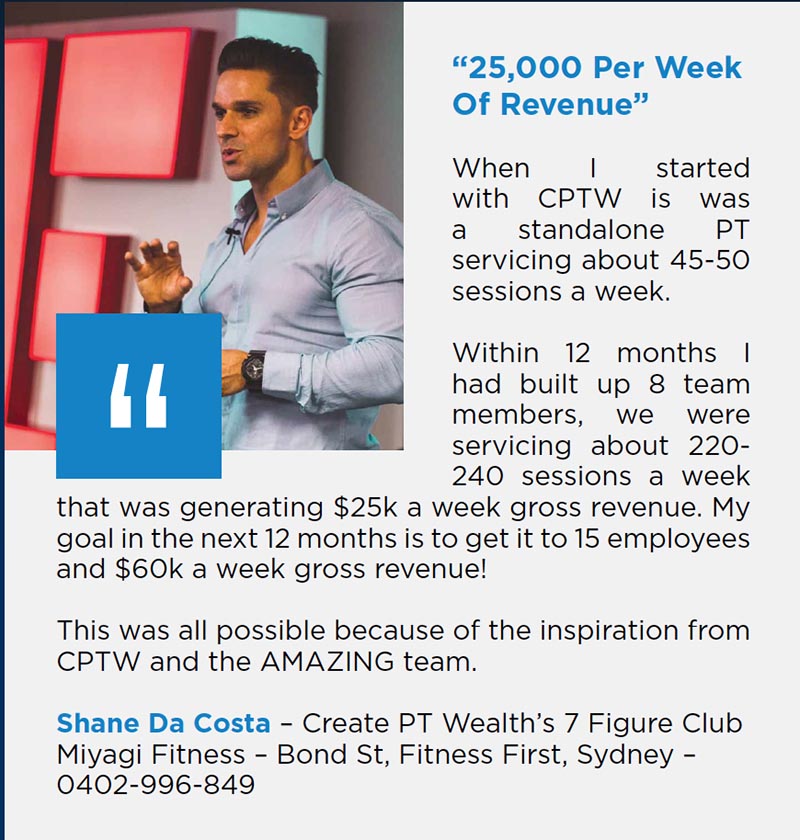 Business Mastery Dates & Information
IMPORTANT: To Avoid Disappointment, Book Your Seat Now.
Simply Click Below To Save $300!
Frequently Asked Questions
I'm interested in attending, but I am still completing my PT Qualifications. Should I wait until I complete my study before joining this program?
If I'd had been wise enough to learn what is in this program when I was completing my personal training studies, I would have saved myself a lot of pain and agony. I also would have been years ahead financially, while reducing the hard lessons I had to learn along the way.
Does this workshop cater for different PT models?
The short answer is yes! No matter if you work out of a studio, outdoors, in a gym, MMA Gym, Mobile PT, this program is for you. The systems and methods are designed to build your business and skyrocket your profits. So it doesn't matter if you do one on one training, group, Pilates or even teach material arts, the only difference is the vehicle you are using to achieve your financial goals.
Where did you learn these systems from?
We have over 22 years industry experience and have developed these strategies and systems over this time. We have invested in Australia's leading business, marketing, sales and mindset Coaches. You can read both Jason's & Brad's stories further up the page. There is no one else out there who has developed the success track record we have achieved in the Industry, who are also correctly quailfied to teach and mentor others.
I have invested in seminars in the past and never put them to use. Can your program help me to overcome that?
I can relate only too well with your situation. One of the many things which makes our program different to others is our strong focus on helping you breakthrough your old limiting habits. We know that to become successful you are going to need the attitude of a champion. Inside this program are several proven techniques for smashing through habits which hold you back from having it all in life. These methods come from one of the world's best specialist in this field and are the techniques I personally used to breakthrough to success.
I don't like selling or I am no good at selling, can you help me with this?
We can totally understand where you are coming from, as we have both experienced the same thing in the past. That's why we put together an easy, non-salesy system to follow…. to solve that problem and our system focuses on showing your prospects how great your service is, so it is more conversational style. Our clients experince an 80-90% close of sale rate, but more importantly feel relaxed and confident.
It all seems too good to be true!
Please don't allow that type of mindset stop you from simply investigating how you can improve your business, income and the lifestyle it can provide you. For $97.00 and 2 days of your time, you have nothing to lose and everything to gain! You can only lose by doing the same old thing and hoping to get a different result.
We promise to keep the doors at our event unlocked so you can feel free to leave at any time if you are not happy with the experience, hey even ask for your money back on the way out. It has never happened yet, but no hard feelings if you are the first!
I don't have a credit card. Are there other payment options for the Seminar?
Yes, you can pay via bank deposit. You will need to contact us here and we can send you further details. lyn@createptwealth.com.au
Is it possible to speak with someone to discuss other questions I have?
Yes, you can either call Brett in our office on 0419 160 555 or contact us here brett@createptwealth.com.au