We're Looking To Create More
Create PT Wealth Success Stories
"If That's You… We Will PERSONALLY Work With You One-On-One In Your Business To Help You Boost Sales, Leads And Profits To Build A Six-Figure And Beyond Business."
It Isn't Enough To Be "Just Talented" As A Personal Trainer These Days To Ensure You Have A Successful Fitness Business.
Are you prepared to let a lack of business knowledge, support and systems keep you from building a successful business?
I'm assuming if you are reading this, then the answer is NO!
If you're not sure how to easily increase the profitability in your fitness business beyond where it currently is, then this program is for you!
We've got a solution for any volatile and unpredictable business right here and you are one small step away.
YES, I WANT TO FIND OUT MORE

See How A Business Coach Can Help You!
CREATE PT WEALTH'S PATHWAY TO SUCCESS
We have helped over 10,000 Personal Trainers create the fitness empire of their dreams!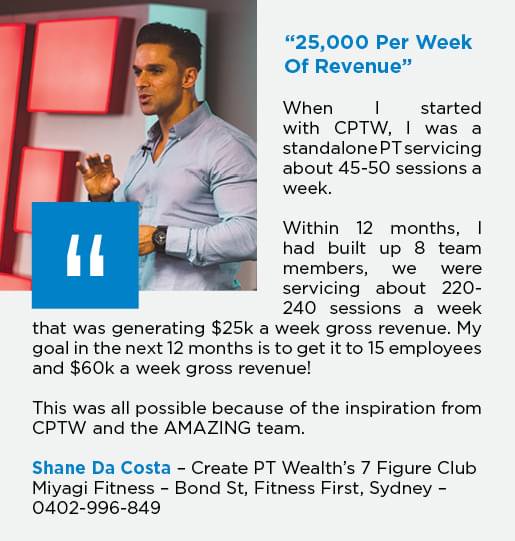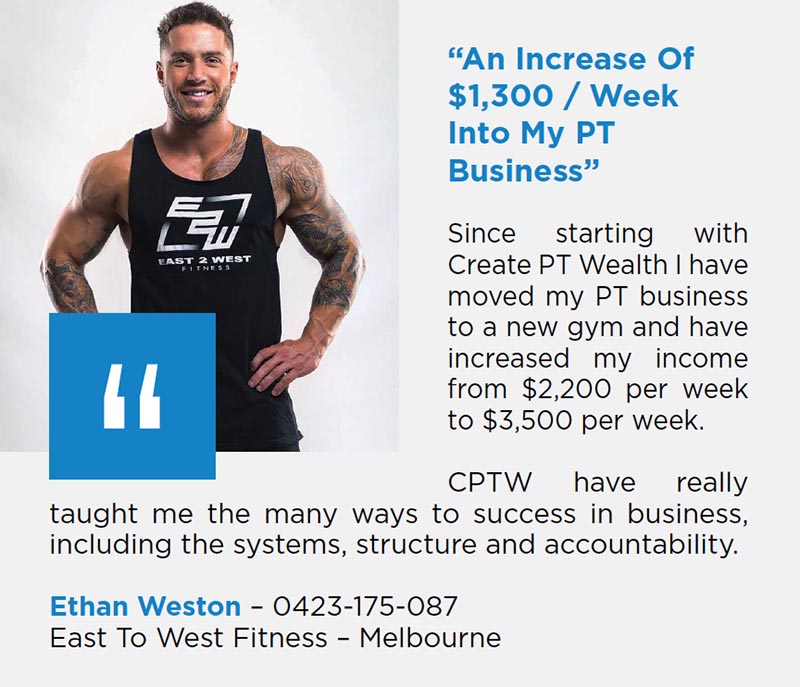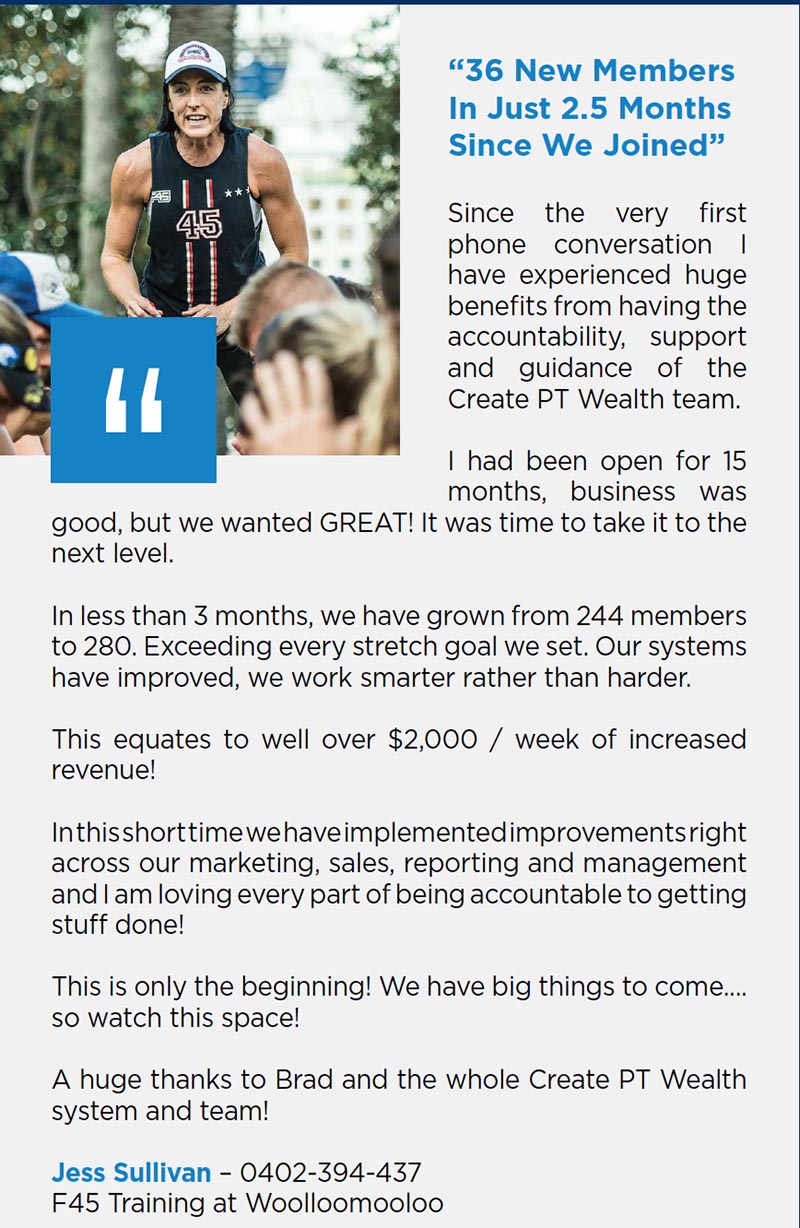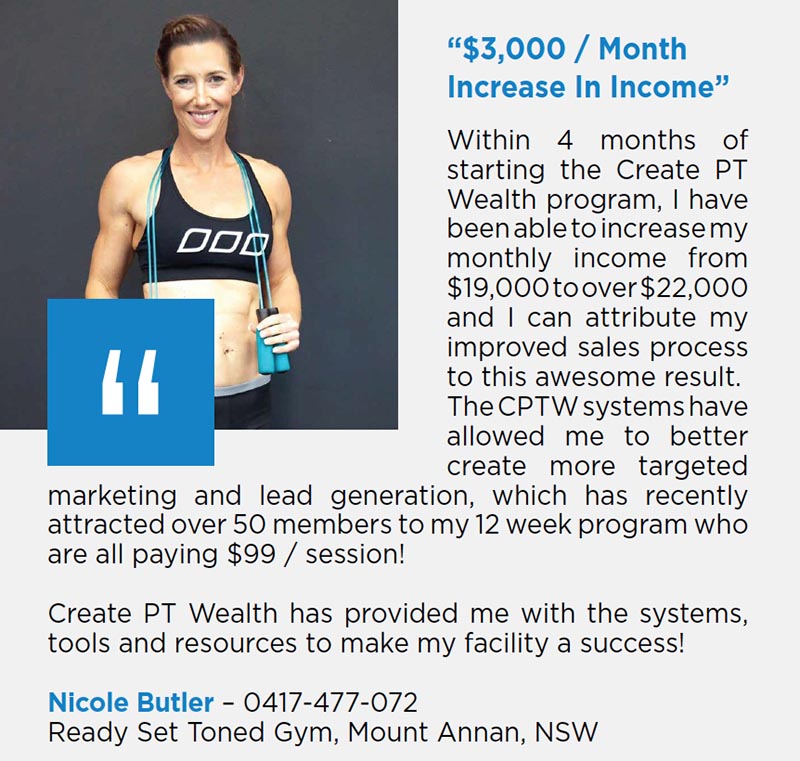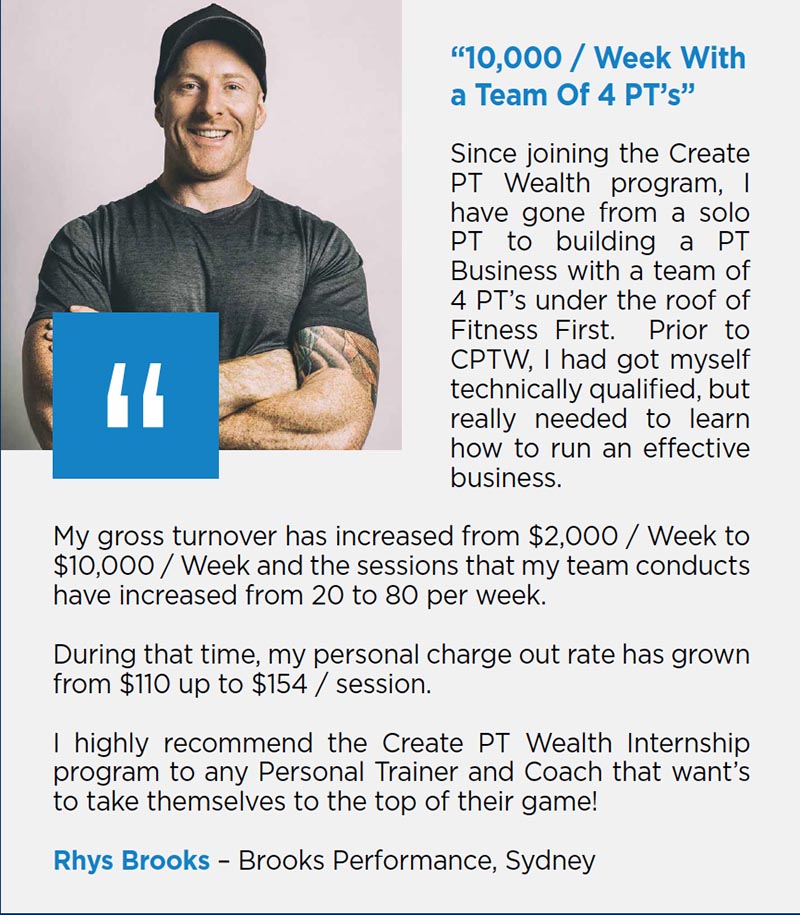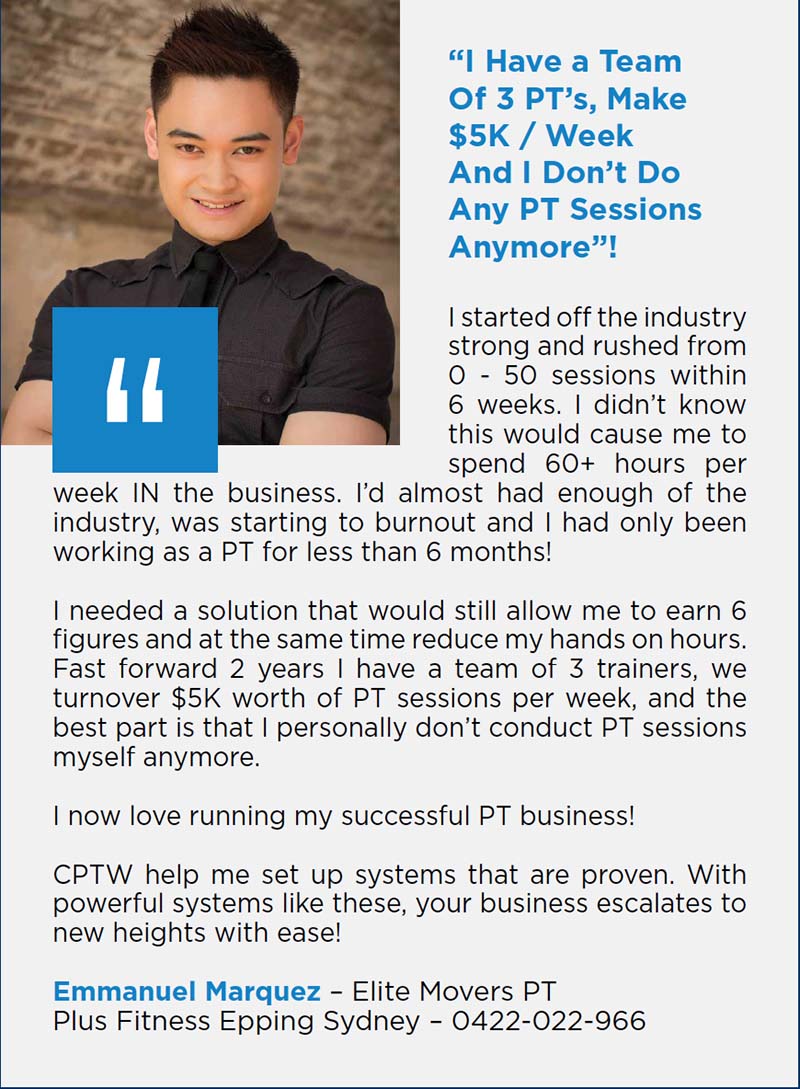 WHY GET A BUSINESS COACH?
An Expert Can Help Fast Track Results
Successful individuals have coaches to assist in guiding them, providing support, accountability plus a knowledge and skill set in the area's where you need it.
You Could Literally Be A Few Moves Away From Your Goals – But Do You Know Which Moves To Make?

Fitness Professionals Need A Blend Of The Right Mindset, Skill Set and Knowledge To Succeed.

If You Are Someone That Has Big Goals, Dreams and Aspirations, Then This Is The Right Step For You
At CPTW We Assist PT's to earn a Six-Figure, Multi Six-Figure and Seven Figure Income Doing What They Love!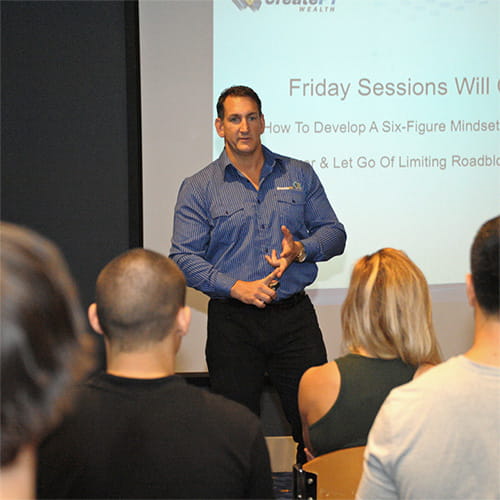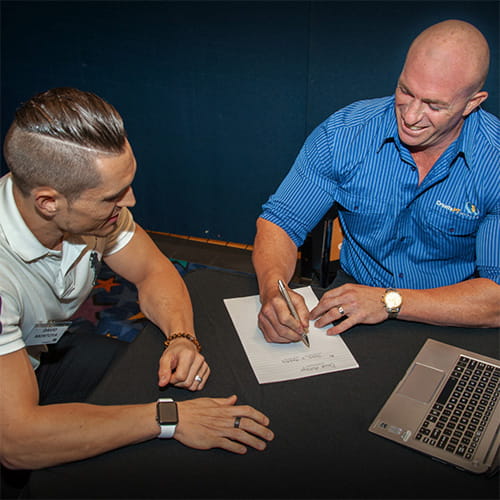 Be Part Of A Community Of Like Minded Fitness Professionals
Your very own business coach with Create PT Wealth can guide you every step of the way. Someone who has your best interests at heart and someone that wants to see you succeed!
Generate More Profit In Your Fitness Business

Reduce Your Hand's On Hours via Implementing A System For Increased Revenue

Put Yourself In A Position To Win With Access To CPTW's Support, Templates And Tools

Get On The Program That's Tailored And Personalised Just For You!
Follow the blueprint to running a successful business that was established in 2008.
Joining forces in 2008, Brad and Jason are the founders and forerunners of Create PT Wealth, with a common mission and desire in place to educate and pass on their wealth of experience and knowledge to other Fitness Professionals going through the same thing that they did when they first started. To this day, they have educated over 10,000 Fitness Professionals and are responsible for creating more successful business owners than any other company.
JASON URBANOWICZ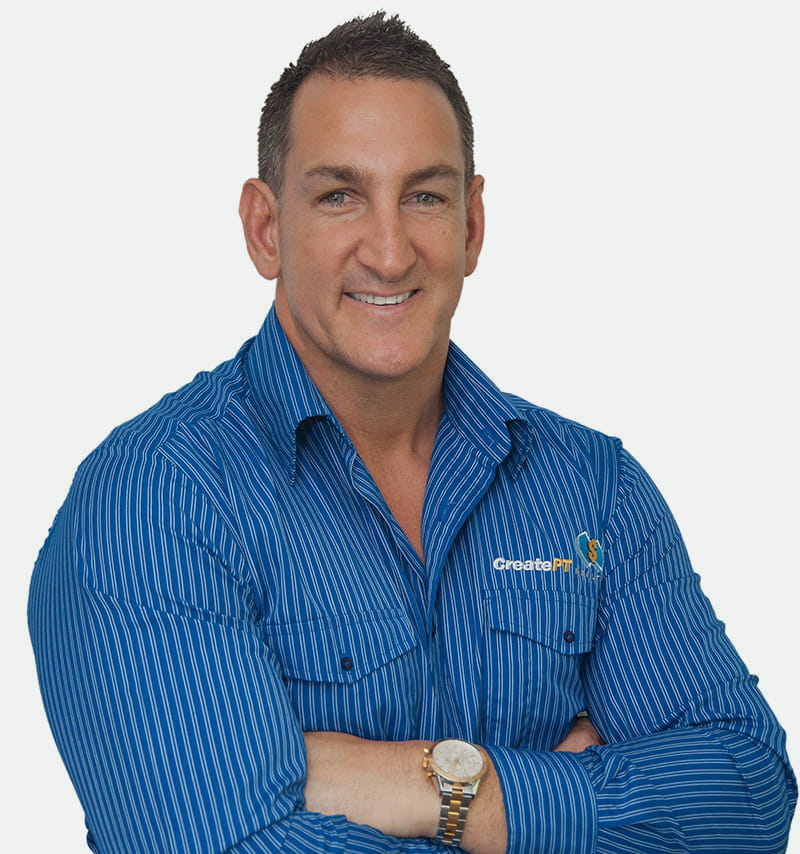 "I was a struggling Personal Trainer getting frustrated with earning a measly $17,000 per year 21 years ago. Then I discovered the methods, systems, and actions that enabled me to build up a successful fitness business.
I became an expert in Marketing, Lead Generation, Sales & invested 13 years studying and being Coached by the best in Business. This resulted in running multiple businesses over the years that generated millions of dollars in revenue."
BRAD SHEPPARD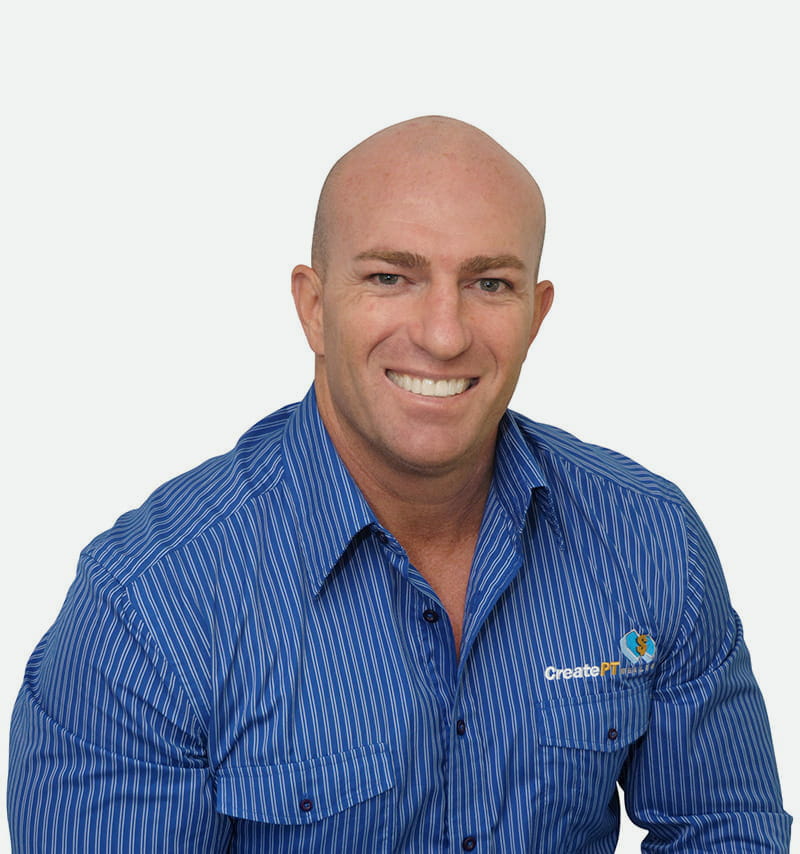 Brad Sheppard was the Owner of Brisbane's largest and most Successful Personal Training team and became Australia's highest paid PT commanading $440 / session!
"For years I was frustrated watching and hearing about fellow colleagues struggling to make a living as a personal trainer … So I decided to do something about it!
We will share with you our secrets, strategies, processes and techniques that will put you in the top 1% income earners in our industry."
Create PT Wealth's Business Coaching And Internship Program's Offer The Following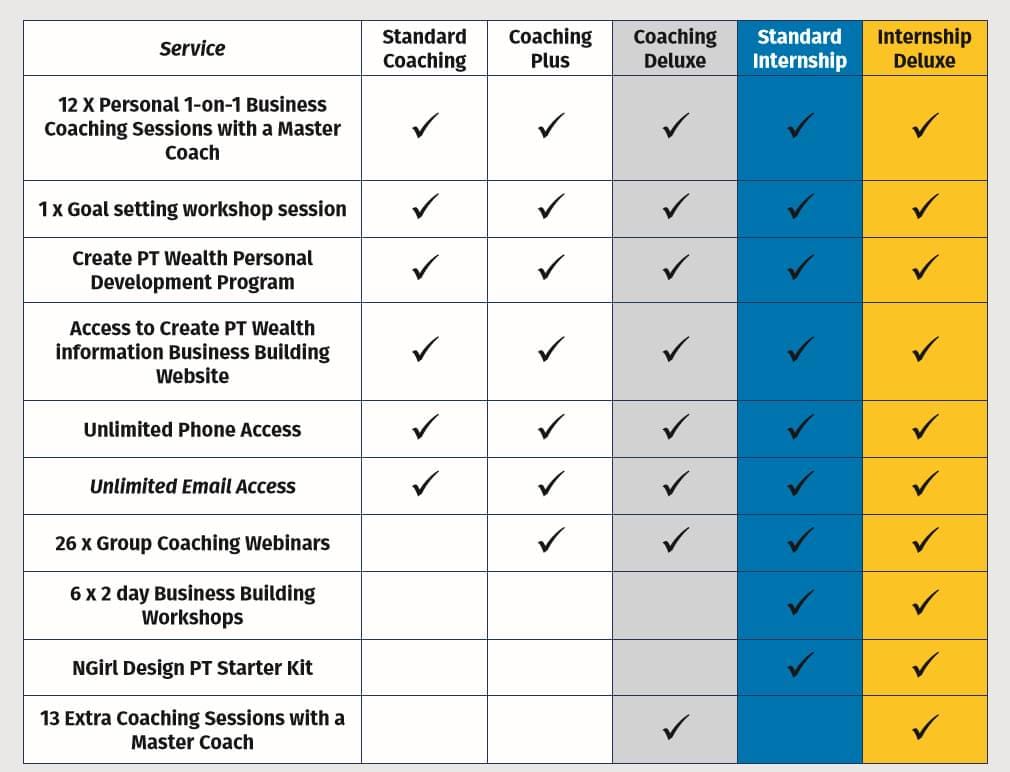 You Could Literally Be Just A Few Small Tweaks Away From DOUBLING, TRIPLING, or MORE in your business…but do you know which tweaks you need to make?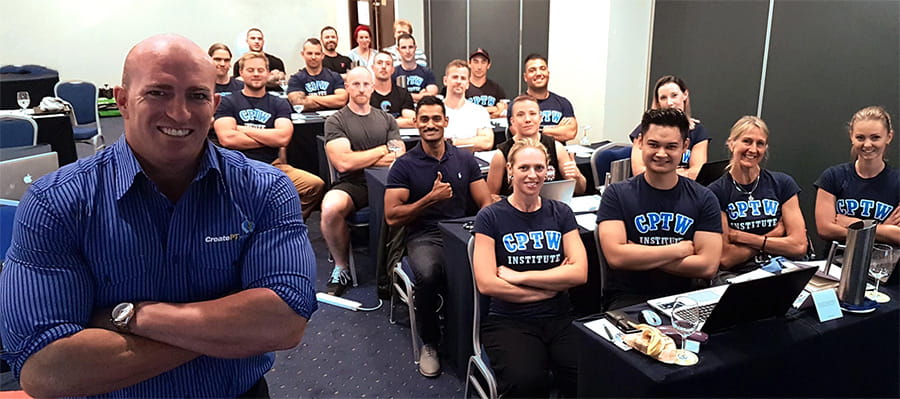 Here's What You Get Access To
One-on-One Business Coaching Sessions – That's right you get your very own Business Coach that will work together with you to create a tailor made program.  The work you do together will be specific to your goals.  You are not joining some cookie cutter "online group".  You will have someone work with you side by side, someone that has your best interests at heart and someone that genuinely wants to see you succeed.
Goal Setting Strategy Session – We kick your program off with a goal setting and strategy session.  Right now you might know where you want to get to, but not quite clear on how to get there or what steps to take.  Together, we map out the strategy on what it will take to achieve the goals that you are chasing.
Personal Development Program – We believe that business is the best Personal Development program on the planet as it will require you to evolve, grow and step up to the next level.  Your rate of success in business will be proportional to your rate of personal growth.  As part of our programs, you will get access to and complete our intensive training on emotional intelligence, leadership, power and charisma, to name a few.  This training alone (and the changes you will experience) will justify the entire investment in our program.
Access To The "Business Building Website" – We've built a large, back end platform (also known as a "Learning Management System") that houses all of our Intellectual Property (IP).  This "IP" includes; Tools, Documents, Spreadsheet's, Templates on virtually everything you could imagine that you will need in growing your fitness business.  Email copy, Advertisements, Social Media Strategies, Contracts and Agreements for hiring team members, over 170+ educational webinars on all topics.  The beautiful thing is that this is all super-easy to use for even the person who feel's like they are a technical gumbo!
Unlimited Phone & Email Access – There might be a question that you need answered, a problem you are facing or just want to run your marketing copy by someone who can provide honest feedback.  After running the business coaching programs for over 10 years, with 100+ clients joining these higher level programs each year, we have yet to turn around to someone and say; can you please stop calling!  We are committed to providing the very highest level of service and support!
Group Coaching Webinars – Every fortnight, CPTW runs our live Group Coaching Webinar, where we unpack our best, latest and most important educational systems and processes.  Receive the most up-to-date info to assist in building your fitness business.  Plus get access to our library of over 200 individual presentations on various topics.
Business Building Workshops – This is what separates the "Internship" program from the "Business Coaching" program.  Bi-monthly, we run a 2 day business building event (very different to our 2 day 'Business Mastery Program', if you have ever attended that).  In these intensive events, its where all of our like-minded fitness entrepreneurs get together for a workshop that provides huge amounts of learning, doing and implementation.  It's 2 days (once every 2 months) to step out of your business to work on yourself and your business and surround yourself with other's that have either achieved or travelling the goals and path that you are!
FREQUENTLY ASKED QUESTIONS
I'm interested getting some help or coaching, but I feel that I am relatively new to the industry and still struggling with the basics – Is this for me?
If I'd had been wise enough to learn what is in this program when I was just starting out my personal training business, I would have saved myself a lot of pain and agony.
I also would have been years ahead financially, while reducing the hard lessons I had to learn along the way.
Does this program cater for different PT models? I am a rent based PT working out of a big chain gym.
The short answer is yes! No matter if you work out of a studio, outdoors, a rent based PT in a gym, MMA Gym, Mobile PT, this program is for you. The systems and methods are designed to build your business and skyrocket your profits.
So it doesn't matter if you do one on one training, bootcamps, semi-private treaning or even teach material arts, the only difference is the vehicle you are using to achieve your financial goals.
Where did you learn these systems from and what makes Create PT Wealth the authority in the business coaching space?
We have over 22 years industry experience and have developed these strategies and systems over this time. We have invested in Australia's leading business, marketing, sales and mindset coaches. You can read both Jason's & Brad's stories further up the page.
There is no one else out there who has developed the success track record we have achieved in the Industry, who are also correctly qualified to teach and mentor others.
I have invested in support in the past and never put it to use. Can your program and coaching help me to overcome that?
I can relate only too well with your situation. One of the many things which makes our program different to others is our strong focus on helping you breakthrough your old limiting habits. We know that to become successful you are going to need the attitude of a champion.
Inside this program are several proven techniques for smashing through habits which hold you back from having it all in life. These methods come from one of the world's best specialist in this field and are the techniques I personally used to breakthrough to success.
I don't like selling or I am no good at selling, can you help me with this?
We can totally understand where you are coming from, as we have both experienced the same thing in the past. That's why we put together an easy, non-salesy system to follow…. to solve that problem and our system focuses on showing your prospects how great your service is, so it is more conversational style.
Our clients experince an 80-90% close of sale rate, but more importantly feel relaxed and confident.
I've read your success stories and testimonials and this all seems too good to be true!
Please don't allow that type of mindset stop you from simply investigating how you can improve your business, income and the lifestyle it can provide you.
Allow us to demonstrate for you what's possible, you have nothing to lose and everything to gain! You can only lose by doing the same old thing and hoping to get a different result.