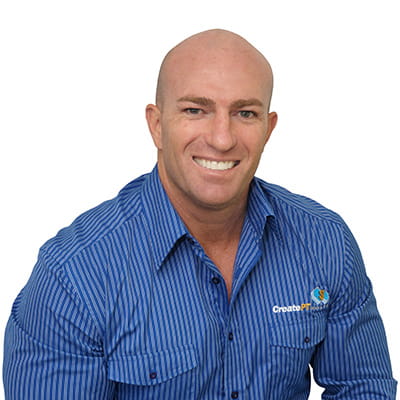 Meet Brad Sheppard
From the day that Brad started lifting weights from his home gym at the age of 12, he knew immediately that he was going to somehow make this new hobby part of his life.
By the age of 15 he was entering bodybuilding competitions, writing training programs and diets for friends and family and dreaming of how he could make this his career.
Whilst the other teenagers were eating meat pies for lunch and riding skateboards in the afternoon, Brad was passionately hitting the gym after school everyday and eating tuna and rice each day for lunch!
Being crowned the 1995 Junior Mr Australia bodybuilding champion at the age of 21 and studying his Bachelor Of Human Movement Studies gave Brad the confidence to launch his personal training business in Brisbane.
And he thought he was going to kill it!  As the newly crowned Junior National Champion, he (wrongly) assumed that he knew it all!
The reality was very different…
"In the first 5 years of running my fitness business, I really struggled.  I had no idea about business, I had no systems or processes, I had no knowledge on how to attract clients and when I got them in front of me, I would discount or do whatever it took just to sign them up"
"I was on a roller coaster, and sometimes it was going OK, but many times throughout that 5 years, I simply wanted to quit, because I was failing"
Then I was fortunate to meet my first Business Coach.  My first mentor, someone who could show me that there is a different way to do things.  Although I had become good at the 'technical' side of being a PT (training clients and getting them into shape), I really sucked at the 'business' side of things.
Brad spent the next few years obsessed with developing business systems and working on himself personally,  overcoming self-sabotaging beliefs on what was holding him back from achieving the success that he desired.
The end result of this training, education and coaching meant that by 2003 Brad had built Brisbane's biggest and most successful Personal Training team with 13 Personal Trainers conducting over 200+hrs of PT every week via 45min sessions.
By 2006 Brad was Australia's highest paid Personal Trainer, commanding $440 / session!  That same year, Brad won the Queensland Fitness Professional Of The Year title.
In 2007, Brad was approached by his long-term mate Jason Urbanowicz (they both shared the bodybuilding stage together at the age of 15 at the 1990 Mr Logan City Bodybuilding Championships) with the idea of educating other Fitness Professionals in the areas of both Business and Personal Development.
Early 2008 the first Create PT Wealth Business Mastery Program was launched.
Brad is the co-founder of Create PT Wealth, Australia's largest Business Coaching and Mentoring program for Personal Trainers. Brad has taught thousands of Personal Trainers Internationally the methods on how to earn $100,000 or greater whilst working 20hrs or less per week.
Brad is the co-author of the best-selling book "A Personal Trainer's Guide to Wealth Creation" and has delivered over 500 live presentations at events including Filex, Network, PT Pro and the Create PT Wealth Summit to name a few.
Brad is a highly sought after business and motivational speaker and is passionate about creating a more professional fitness industry by volunteering his time on the REPS council of Fitness Australia.
Brad and Jason celebrated 10 years of business at Create PT Wealth in 2018 and reflected on the thousands that have come through their educational platforms, attended their seminars and gone on to join their Business Coaching and Internship programs.
What juices Brad is to not only see the amazingly profitable businesses that they have coached others to create, including six-figure, multi six-figure and seven-figure incomes, but also the ripple effect from the number of lives that have been positively impacted in the process.
Brad lives in Brisbane with his wife Adrienne, his beautiful kids Sofia and Dexter and Camilla the French Bulldog!
Brad wants to connect with all like-minded individuals in the fitness industry, so please reach out on the following;