The Top 10 Tips for Social Media Optimization
Social Media Optimization is a huge buzzword in the online world today. Also known as SMO or social SEO, it's all about optimizing your social media presence for traffic. While some of the same rules apply, there are also some differences you need to be aware of. Here are 10 tips on how to optimize your social media profile in order to connect with your community and potential future PT clients.
1. Socialize and Optimize!
This may seem obvious, but it's so important it needs to be stated right here at the top. Every social media profile you create should start with spending some time checking out other people's profiles, making friends, and commenting. It's all about networking. Follow them first and they'll follow you. See what other PT businesses are doing, what sort of "companion" businesses can you connect with – these are businesses that may have a product or service that enhances your PT Client's lives.
2. Use Multimedia
Use plenty of pictures, videos and other multimedia. Social media sites are designed for this and they make it easy to upload media files. When you use these, you create a much more interesting profile and it helps with branding.
3. Share Me
Add share buttons for your social media sites on each of your blogs or websites. These are buttons like Twitter's Tweet This and Pinterest's Pin It. Integrate everything as much as possible so that you've got traffic going in every direction.
4. Consistent Content
Just like your website or blog, you need fresh content. With social media, this is even more important. Get into a schedule of regular posts and updates, but also make sure that you're offering value or something interesting. Make sure the content is natural and relate-able. Be positive and avoid prickly subjects like religion and politics (this is for your PT business).
5. Keyword Optimize
Everything in your profile should be keyword optimized, and especially all titles, tags and descriptions. Be careful not to stuff.
6. Complete Your Profile
The search engines generally ignore half-finished profiles. It's also bad for your branding if your profile isn't complete. Fill out everything before you start networking.
7. Watch Visitor Behavior
Use the analytic tools provided by social media sites and pay attention to what people are doing on your site. This will tell you what's working and what's not. If some features aren't being used, eliminate them to cut down on clutter.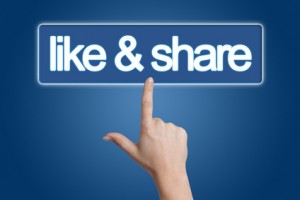 8. Share Everything
Create content that's unique, helpful and interesting, and encourage your visitors to pass it around. Viral posts get you massive exposure. Come to our facebook page and see what gets shared. It's not just about selling workouts, it's images of people having fun, being fit, motivational sayings and pictures, jokes, it's about engagement.
9. Consider Timing
Pay attention to the timing of your posts and track results. You'll find that certain times of day get you a better response. Focus on those high-traffic times.
10. It's Not About You
Don't only talk about yourself and your products. Focus on topics that are helpful to your readers and the problems that your products or services can solve for them. for instance, if you find a more effective way to do a particular exercise, share it!
Social Media Optimization Strategy Worksheet
On social media sites, it's all about being real. If you consistently provide good content and increase user activity on your profile, the search engines will love you. Your social media optimized profile will brand your fitness business and drive new fans to your facebook page.
In order to create an effective social media strategy for your PT business, you can use this worksheet to lay out your primary goals and implementation strategy for each site in which you intend to be active. Include the following information
Social Media Site: List each site where you know your target market is active.
Goal: What is your primary goal for engaging with your market on this site?
Content to post: What type of content will you publish in order to best engage your market?
Posting schedule: How often do you need to post content and interact with people on this site?
Who? Who in your business will be responsible for managing this site, including posting of content and interactions?
| Social Media | Goal | Content to Post | Posting Schedule | Who? |
| --- | --- | --- | --- | --- |
| Facebook | | | | |
| Twitter | | | | |
| Google+ | | | | |
| YouTube | | | | |
| Pinterest | | | | |
| LinkedIn | | | | |
| | | | | |
| | | | | |